6 more days and I'll be on summer vacation time. I can do this! Who else is counting down the days for summer to start? No early mornings rushing around, no more packing lunches…easy days and fun are on the way! I can't wait!
This week was an awesome training week for me. I love a week where everything clicks. My runs went well and I had a ton of fun along the way.
Fitness
Monday – one mile and a really tough BodyPump class. I am finally back to the weights I left off with and I'm thrilled. Hoping to start moving up some of them soon.
Tuesday – 5 miles: 1 solo and 4 with Cara. I got out of a meeting earlier than planned so I got a quick mile in before meeting Cara to run. We had the most fun running these crazy fast/slow intervals. It was cracking us up. We'd pick a spot just up ahead and run at a pretty fast pace then walk or jog for just a few seconds and do it all again. Half the time we were laughing and the other time, gasping for air.
Wednesday – National Running Day! We had an awesome turnout for our running get together. Thanks to Junction 311 for joining us and giving away prizes, including a free race entry. It was great to meet new people and everyone had a great time! I ran 3 miles and add another one at the end for 4 total. I also forgot my watch and loved the freedom of just running!
Thursday – 4 miles with Christine around Hamilton Lakes. We kept it super easy and actually ran more than we did the last time we were there. The weather has been cooperating for the last few days!
Friday – one mile early in the morning "rest day"
Saturday – A small group of us met to run from Gibson Park. Every time someone suggests we run out there, I get excited because it's somewhere different to run. Then immediately I remember how hilly it is within the first mile. It's seriously no joke! I planned to run just 7-8 miles and stuck with Amy for the 6 miles. We had a great time catching up and chatting. I felt really good so I ran 3 more solo miles for 9 total. I felt really great when I finished! I saw my friend, Lauren, out there who was running a race.
Sunday – We had our family photos in the morning and I was able to get an afternoon run in post pics and Hayden's party. It felt good just to get out there for a bit.
Total miles: 27.35 miles
2015 Year to Date Miles: 618.52 miles towards 1500
Meals
Another great week of Hello Fresh meals!
Hello Fresh meals
Brioche Shrimp Rolls with a radish salad
Steak Provencial with a three bean salad
Cuban Picadillo with rice and beans
Other meals
Buffalo Spicy Boneless wings, extra hot.
Veggie pizza
How did your week go? Run any races this past weekend? How'd they go?
Are you making goals and looking back at your week too? Head over to The Weekly Chase hosted by Molly and Mindy and see what other people are sharing about their weekly goals and accomplishments.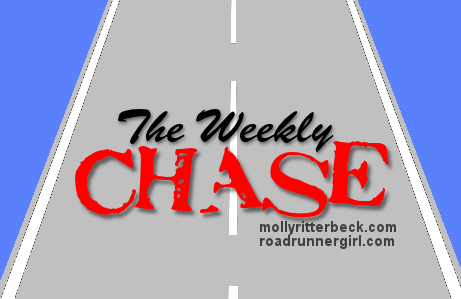 Go be awesome! 🙂
Follow Runner Girl in a Rocking World