Some how, some way I got through all my workouts this past week and due to a change in our schedule, I ended up with more miles than I thought.  I'm thrilled!
Fitness
Monday – One mile early in the morning and an after work Body Pump class.  I started over again with my weights and felt really good.  The back and the lunge tracks were the toughest!
Tuesday – Another fun Gibb's Running Club run!  Cara and I ran 4 miles and had a really solid run.  I had to walk a few times due to a high HR.  The heat and the hilly course made it challenging to keep my HR low.
Wednesday – One mile early so that we could celebrate Hayden's birthday
Thursday – Ran 4 miles, 2 pretty easy and 2 a bit faster (9:01, 8:28).  I wanted to see what my HR was at 8:30 pace and surprisingly it was a lot lower than it was months ago.  I never got above 160.  That's a huge amount of growth in my fitness!  This is truly working and working well for me.
Friday – one mile easy
Saturday – We had a change in plans for our family pictures.  One of my nieces was sick and we had to postpone the pics for a few weeks.  It was the right call!  I got to meet up with my sister this morning to run 5 miles.  My sister is a closet runner.  She runs often but usually by herself and in most cases super early in the morning during the week.  I was so happy to catch up with her and run!  It was really enjoyable.
Sunday – I paced Race 13.1 Greensboro, the 2:30 group.  It's my second time pacing this race and I love it!  There's something special about pacing a local race.  Cara and Christine ran the race too.  Christie and Johnny were back to pacing as well. 
Total Weekly Miles: 29.3 miles
2015 Years to Date Miles: 541.21 miles on my way to 1500
Meals
Another successful week of meals provided by Hello Fresh and cooked by me and Nick!  We are really enjoying it.  We spend the evenings, cooking and talking.  It's become a nice stress relief for us both.  I look forward to it nightly.
This week's meals included:
Meatloaf with shallot gravy and potatoes and carrots
Pork au Jus sandwiches and parsnip fries (I ate chips and salsa with mine)
Argentine Steak with couscous salad with spinach and red peppers
Magnolia Mountain pizza from Sticks and Stones (dinner and leftovers the next night)
How did your week go?  Run any races this past weekend?  How'd they go? 
Are you making goals and looking back at your week too?  Head over to The Weekly Chase hosted by Molly and Mindy and see what other people are sharing about their weekly goals and accomplishments.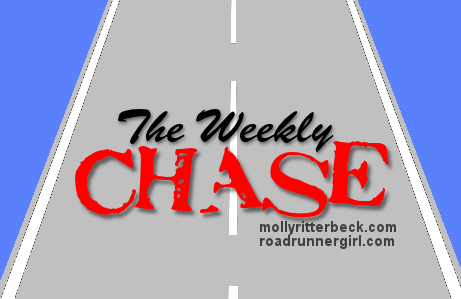 Go be awesome! 🙂
Follow Runner Girl in a Rocking World