We had a lots of thing planned yesterday and I took a blogging holiday.  I hope everyone had a great Easter and enjoyed the time with their family and friends.
Weekly Rundown
Monday – 1 mile and BodyPump with Christie, Julie and Bill
Tuesday – We had our first run with the Gibbs' Running Club.  Boy, what a turnout!!  They had a 3 and 5 mile route planned, we opted for the 5 miler and it was a doozy.  Up, down, up, down…tons of hills but it was fun to run a different route.  We enjoyed a brew post run. 
Wednesday – Cara, Christine and I met to run.  All three of us were kind of not feeling running, so we stuck with some intervals after the first mile: 3 min running/1 min walking and we ended up mowing down those last two miles way faster than the first two and we felt great!  That saying, never judge a run by the first mile is true.  If we weren't all together, I would have bailed.
Thursday – I met Christie to run 3 miles before she went to her class.  We ran a rather quick 3 miles and I felt pretty good.  I came home and did my core workout (50 push ups, 100 crunches, 2 1 minute planks)
Friday – a one mile "rest" day
Saturday – Christine and I met in my neighborhood to run 3.5 miles before we volunteered for the Runnerdude 25K.  We had a great time volunteering and cheering on the runners.  I also did my core workout.
Sunday – A small group of us got together to run.  I ran 8.5 miles to make up for the .5 from Saturday.  I wanted to keep my miles close to the same as last week's.
Total weekly miles: 26.01 miles
YTD: 375.83 on my way to 1500
Weekly Fitness Plan
Today – I'm going to get a 3 miler in before we head to the beach!!
Tuesday – Thursday:  I'll plan to run every day, but honestly, I'm not sticking to a mileage number.  It will depend on what we do and what we have planned.  I will stick to my core workout routine though.
Friday – I'll get try to get in 3-4 miles if I feel like I need it.  We have to go to school for one day (snow make up day)
Saturday – 10 miles
Sunday – 4 miles
Weekly focus: Diet and Hydration
I'm going to try and make good decisions while we are at the beach.  We'll be eating out for several meals so I'll mix in some salads to keep myself in check and splurge once or twice, I'm sure. 🙂
How did your week go??  What do you have planned for this week?
Check out other weekly goals on fitness, home and health by heading over to The Weekly Chase with Road Runner Girl and Molly Ritter Beck.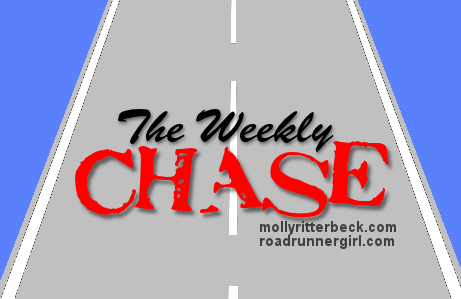 Happy Week!
Follow Runner Girl in a Rocking World