For 6 weeks now, I've been following the MAF method and have been loving it!  Every run feels amazing and I really have enjoyed them all.  But Monday, something changed…
I had to run by myself.
Yup, I had scheduled 3 miles for Monday and normally, I'd lace up and head out but instead, I stayed in the house opting to run circles around my living room to get my daily mile in.  I didn't think much of it, until again this morning, I have to run 3 miles solo and I have no motivation to get out there and run.
Is it burn out?
Is it the weather?  It has been gloom and doom here in NC for days!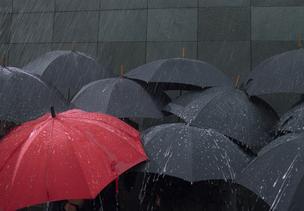 What could it be?
While running with Cara yesterday, I think we figured it out.  Because all of our runs are at the same HR, so our paces vary day to day but our effort is the same, all of our runs have become more social.  We can talk to each other the entire time we run!  Normally during a typical training season, we have our slow long run days and easy days (all social runs), but then we have our speed work days (pop in your music, you run your run, I'll run mine runs).  So without much variation in what we are running now, those days of running solo speed workouts are gone!  I don't need to pop in the music to give me motivation.  I don't have to talk in short one word answers.  We all aren't out there all running different speed workouts.  We literally are all running the same thing and at the same effort.
So what do I do?
Do I leave behind this plan and start doing speed work again on days I have to run solo?
No, my body isn't ready to do that and my mind wants a break from paces.  I just don't want to fall back into another hard training season right now.  I am really enjoying the runs as they are and I'm excited to see where I end up endurance and fitness wise at the end of this 4 months.
Do I just not run solo ever?
That's completely unlikely.  I can try to make my one mile days my only solo runs a week, but even that's a stretch. I'm headed to Ocracoke for work this week and all my runs Monday through Wednesday will be solo.
Do I just put on my big girl pants and deal with it?
Most likely yes!  But maybe I need to think differently about how I tackle a solo run.
Here's what I decided to do:
If I can, I'll start wearing music on my solo runs.  That in itself may help!
Turn any run into a MAF test.  By doing the test, you have to stay at your MHR for the test.  This is about as speedy as we get so it's a good way to just feel like I'm doing something different.
One suggestion that I read while using the MAF method is to run 10% of your runs downhill.  It helps with running faster paces at the same MHR and helps with leg turnover.  So while hill repeats on traditional plans are types of speed work, I'm actually going to reverse that and run downhill repeats!  So I'll walk/jog up the hill and run down it as fast as my HR will allow me.  That's my plan for today!  1 mile (warm-up, cool down) and 2 miles of downhill repeats!  Doesn't that sound awesome!? And because it's speed work, I'll wear music to keep me motivated!
So tell me, what you do when you are not feeling very motivated?!  Any suggestions?  I can tailor it to fit my plan.
Follow Runner Girl in a Rocking World