Oh, I can't wait for FALL!!  The cooler temps, the beautiful colors of the leaves on the trees, and that wonderful fall smell in the air.  While I love summer for the breaks, sun and vacations, it's really Fall that has my heart.  There is just something amazing about running in that autumn glory!
So for this Friday Five, we are celebrating Fall and looking forward to all it brings!
Fall brings FAST TIMES
All that hard work all of us having putting in during those hot summer months should pay off on that first cool morning.  I can't wait for the day when I'm running and I look down at my watch and to my surprise, I'm keeping a pace that I haven't seen for weeks of hot and humid training.  There is something exciting about the anticipation of waiting to see how all these tough, grueling runs might pay off in colder temps.  It's what is getting me through 90% of my training runs.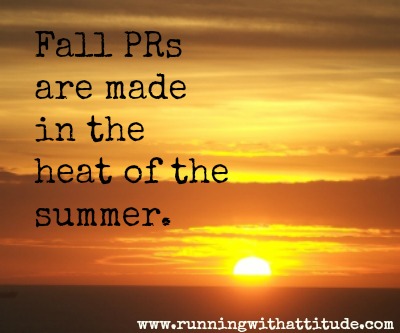 Fall brings FALL RACES
I love the time of year as people start posting on various social media sites their race day countdowns.  Living in the Southeast, it's part of a runner's DNA to know when each race starts gearing up and which friends are running which races.  I get just as nervous and excited as my friends' race days approach as I do my own.  I can relate to how they are feeling and the giddiness they feel as they move closer to the starting line.  I have friends running half and full marathons through the month of October and November and I can't wait to see hear about everyone's journey and experience!
Fall brings FOOTBALL
As a HUGE Appalachian Football Fan, I cannot wait for football season to start.  While they play in August and September, my favorite times to head to games are October and November.  While training for my marathon, it looks like my long runs will take me away from the games until late November.  I can't wait to head up to Boone to see them play!  Tailgating, cheering and watching the game is a perfect way to spend a Saturday post marathon training.
Fall brings RUNNING SHIRTS WITH THUMB HOLES
Best invention ever!  Seriously.  I have become such a thumb hole snob.  I will instantly turn down any long sleeve shirt on the simple fact it's missing a thumb hole.  Once you've worn one, you will never want a regular ol' long sleeve shirt again.
Fall brings PUMPKINS
Not really a sport related thing, but anything pumpkin seriously rocks!  Pumpkin ales and pancakes (maybe not together though!), pumpkin dip with Nilla wafers, pumpkin pies with whipped cream…even pumpkin decorations around our house.
Check out other awesome Fall Previews over at Mar on the Run, You Signed Up For What?, or Eat, Pray, Run DC.
Happy Week!
Follow Runner Girl in a Rocking World